Create your own DIY grazing platter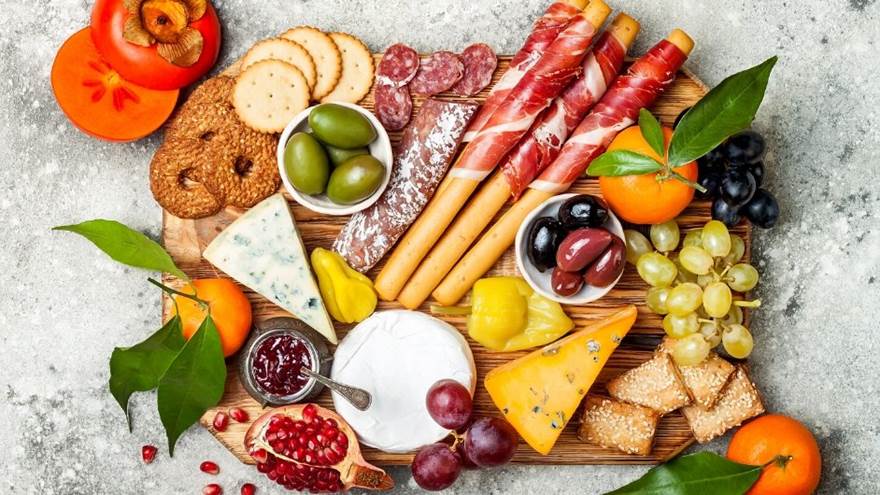 Hosting a dinner party and in search of a crowd pleaser?
Get your creativity on with your DIY grazing board. The best part is you can customise it as you wish, whether it be sweet, savoury, antipasto or even Mexican. The world is your oyster.
If you're after some more direction, follow along to see our suggestions:
1. Find your base
You don't need an artisanal cheeseboard to wine and dine. Any old chopping board, parchment paper or even baking tray could work perfectly well.
2. Pick your Ingredients
The possibilities for what to include are endless but we've come up with ideas for essential ingredients:
Cheese
Offer a selection of 3 cheeses for your board, we recommend a hard cheese, a soft cheese, a goat cheese or even a vegan cheese, it's up to you.
Deli Cold Meats
Our go-to options are thinly sliced deli meats. Prosciutto and Salami are perfect picks but if you are working with a budget, cabanossi and ham are great options too.
Fruits
The freshest produce tends to be the ones that are in season. Some great options to consider are grapes, berries and pears.
Vegetables
Everyone loves a good crunch, especially when it's packed with micronutrients. You could opt for red or yellow capsicum, cucumbers, carrots and Celery
Crackers
Choose a selection of crackers with different shapes and textures. Our favourites are water crackers, wafer crackers, breadsticks and lavosh, just to keep things interesting!
Dips
We recommend you get a thick creamy dip such as hummus or baba ghanoush as a great accompaniment to the crackers. Feel free to mix it up with guacamole if you're feeling festive.
Extras
We love a good chocolate covered almond, dried cranberries, fruit paste and olives.
3. Assemble your board
Get your heaviest items on first, this being cheese and dips because they will occupy the most space.
Group your crackers and place them in areas surrounding the dips and cheese.
Scatter your fruits and vegetables. PRO TIP: Grouping them by colour will add pops of vibrance to your board.
Fold up your deli meats and carefully layer them across different areas of the board.
Tuck your extras into the gaps.
Pair it with your favourite beverage and you now have a popping grazing platter for any occasion- with a side of insta-worthiness!